Zonnic Pouch Mini 2 mg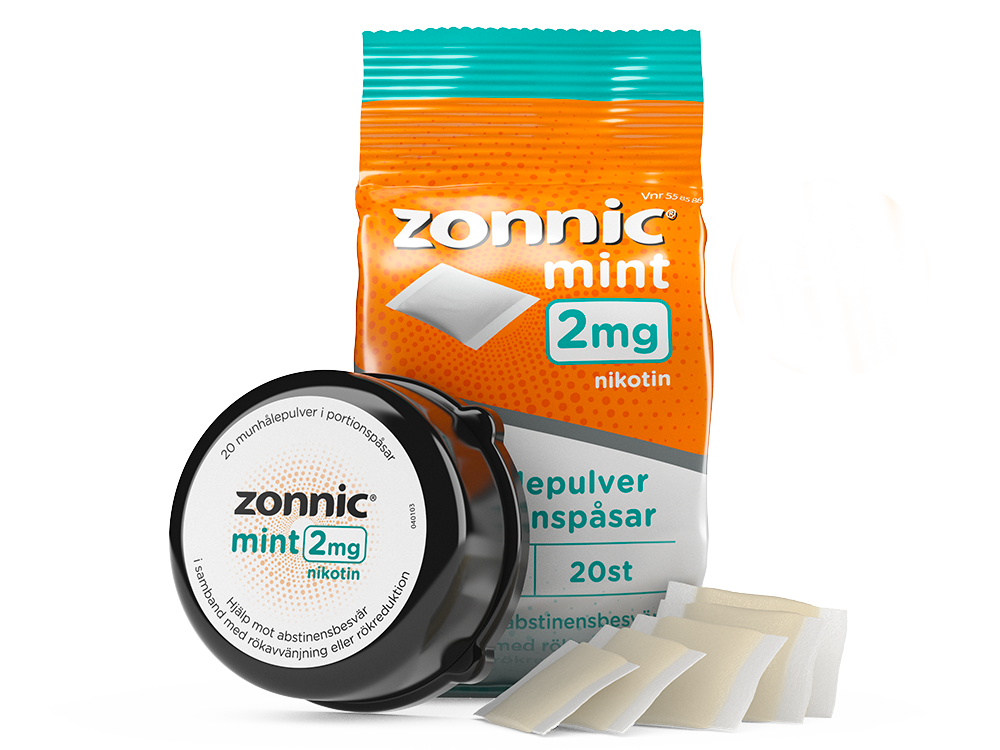 Zonnic Pouch Mini 2 mg
Zonnic pouches with a mild mint flavor have an effect against the urge to smoke. Small and discreet pouches that you place under your lip.
Buy Zonnic
Mild mint flavor
Comfortable and discreet
Moisten and place under the lip for up to 30 minutes
Move around the pouch for added effect
Child-safe packaging
Recommended 8-12 bags / day
24 months stability
4mg and 2mg strengths
Zonnic pouches with mild mint flavor help fight smoking cravings and nicotine withdrawal symptoms, helping to prevent relapse to smoking. This product is for smokers who are motivated to quit or reduce their tobacco usage.
1. Lightly moisten the pouch with the tongue and place it under the lip, leaving it there for up to 30 minutes. For increased effect – move around the bag from time to time.
2. Use a nicotine pouch when you feel tobacco cravings, in most cases 8-12 pouches per day is sufficient. A maximum of 24 nicotine pouches per day should be used.
3. When you're ready, you can reduce the number of nicotine pouches per day or switch from from 4mg to 2mg strength. Zonnic pouches can also be used to skip an occasional cigarette.
Read the package leaflet for complete information on how to use Zonnic pouches.
Zonnic nicotine pouches – help against smoking cravings on your terms
Zonnic nicotine pouches have a proven effect against smoking cravings and they are flexible and easy to use. In addition, you can decide for yourself how big of a nicotine effect they should have. By moving the pouch in the mouth, more nicotine is released from the pouch. The discreet pouch is a good way to stop smoking. It works perfectly in places and situations where you cannot or are not allowed to smoke. They are perfect on, for example, long flights.
Since Zonnic nicotine pouches help you to be free from tobacco, you will avoid the toxic and cancer-causing substances that tobacco products contain. You will find them in two different strengths – 2 and 4 mg – and they taste really fresh!