Zonnic Mouth Spray Peppermint 200 sprays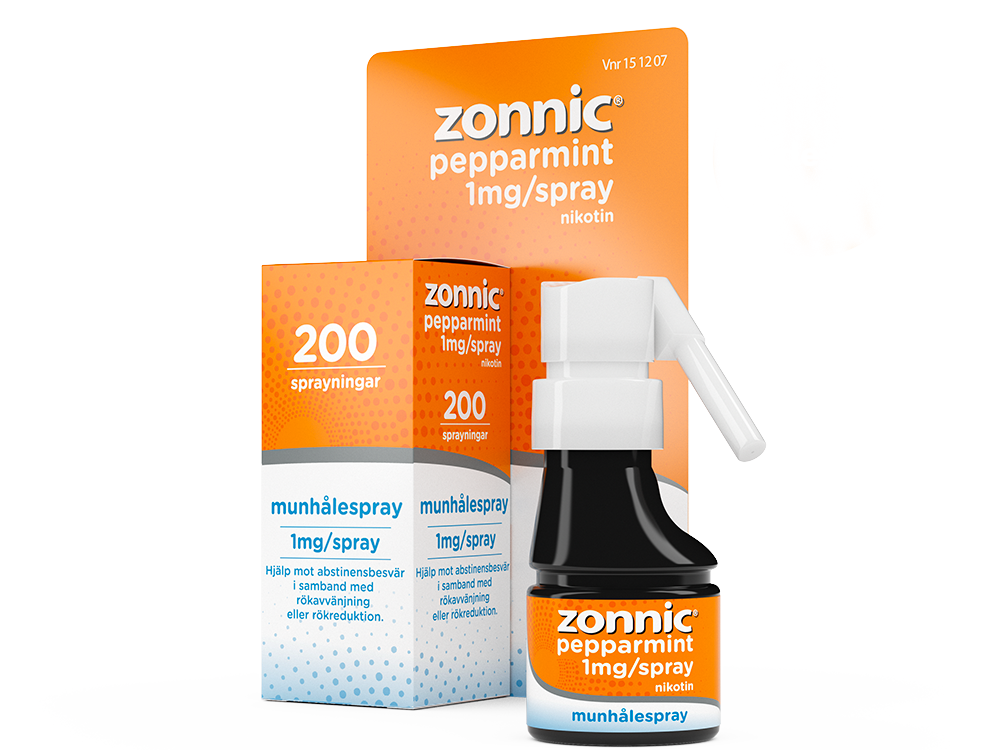 Zonnic Mouth Spray Peppermint 200 sprays
Buy Zonnic
Contains natural peppermint oil
Effective in one minute
Specially designed nozzle for easy spraying
Affordable alternative per dose
Flexible – choose between one or two sprays
Good alternative if you have dental problems
Easy to carry
Available in two-pack
Each bottle contains 40 or 200 sprays
Start with the smaller bottle to test if nicotine spray is right for you. The nicotine spray is also available in a double package (2 x 200 sprays), which is the category's best value. In addition to the increased value, the 2×200 spray pack has the advantage that you can always have Zonnic on hand. Why not keep one at home and one at work?
1. Turn the nozzle to the side. Angle is downward and spray between teeth and cheek.
2. One dose (1-2 sprays) when you feel cravings usually suffices. Try to reach the level that suits you. Use a maximum of 64 sprays per day.
3. You can also use nicotine spray as an alternative in situations when smoking is inappropriate. Remember that every cigarette you choose not to smoke is a victory.
Be sure to read the package leaflet for complete information on how to use Zonnic mouth spray.
Take control of your smoking cravings with Zonnic Mouth Spray
Cravings for a cigarette can come at any time and in any situation. Zonnic Mouth Spray allows you to manage the craving fast, effectively and discreetly, meaning you regain control and can focus on what you want and need to do. The spray also has a pleasant taste!
Zonnic Mouth Spray is easy to use. As soon as you feel the craving to smoke, simply take out the bottle, place the moveable nozzle between the cheek and teeth and spray once or twice. You will notice how the craving fades away within a few minutes. Choose between bottle sizes of 40 or 200 sprays. A tip is to start with the small size to see if nicotine spray works for you.